About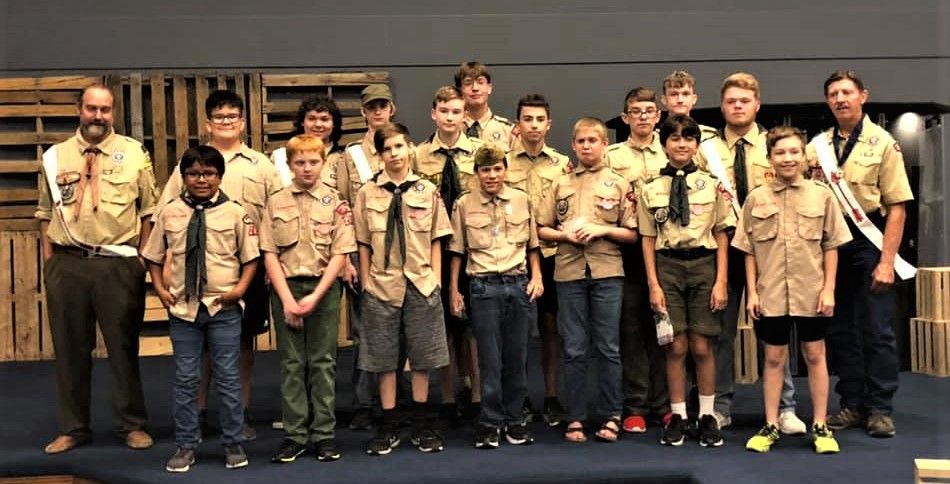 Welcome to Boy Scouts of America Troop 243 in Azle Texas. We meet Monday nights at 7PM at the Azle First Assembly of God ( 1020 Southeast Parkway, Azle TX 76020 ) We prepare young people to make ethical and moral choices over their lifetimes by instilling in them the values of the Scout Oath and Law. Troop has fun, and has monthly campouts and other activities.  We accept all boys from 11-17 years old.  Troop 243 is in the Lone Star District of the Longhorn Council.
Contact us at:  info@troop243azle.org for more information.
Troop 243 was founded in Azle in 2001, and our sponsor organization is Azle First Assembly of God. As Scoutmaster, I am committed to several principles:
Patrol Method – We are a boy-led troop. Within the rules of the BSA, including the Guide to Safe Scouting, and keeping our obligations and traditions, the Scouts are responsible for the planning and running of the Troop. Adults provide guidance and oversight.
Flexibility – The Eagle Scout rank can be earned in as little as two years or as many as seven (the BSA Guide to Advancement suggests four years as "ideal"). Our Troop has always been flexible around sports, band, and other extracurricular activities. Scouts is a year-round program, and the trail to Eagle is different for every Scout.  
Opportunity – using the BSA "Journey to Excellence" as a benchmark, we will provide camping, advancement, and leadership opportunities for Scouts to advance at their own pace. We also encourage any parent to volunteer and experience Scouting with their son.  
Fun – Our Troop has adventures and activities solely for fun, not everything is "work". Scouting is a game with a purpose.
The Troop typically camps and/or has a major activity once a month, and meetings every Monday night at 7PM, generally at Azle First Assembly. We attend a weeklong Summer Camp every year, and have a goal to also attend a High Adventure Summer Camp for Scouts 14+ years old (Philmont, Northern Tier, Sea Base, etc.) every other year.
We strive to keep costs as low as possible, and offer confidential financial assistance. Parents will be invoiced for actual program costs, and the boys will have opportunities to fund raise to offset their costs to "pay their own way".
The Troop publishes a calendar of events to our website and other locations, and communicates via email and a Facebook group. If you have any questions or concerns I invite you to contact me anytime and I will be happy to answer or point you to the right person to answer.
I've been a Boy Scouts of America volunteer leader (aka "Scouter") since 2013, and we have other members of the Troop Leadership team have been in Scouting much longer than me. I was not a Cub Scout or a Boy Scout as a youth, but I've attended and continue to attend many training courses to be the best leader that I can be. It's an honor and a privilege to be Scoutmaster, but more so incredibly rewarding to see these boys learn and grow into great young men – and I invite every parent to be involved in the Troop if they like.
Yours in Scouting,
Tom Kisner
Scoutmaster, Troop 243